About Us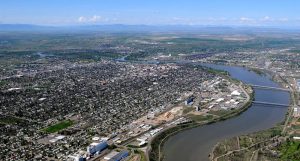 North Data center provides conditioned power, locked cabinets, connectivity, thermal conditioning, secure facility, humidity control, server monitoring, troubleshooting services and more for co-location and hosting customers. We have dual underground power grids, backup generators, primary and backup thermal systems, dedicated off-site business continuity sites, and redundant infrastructure that make it a Tier III capable facility per the Uptime Institute criteria.
As the first data center in Great Falls MT to become PCI compliant, we're passionately committed to maintaining those certifications that secure our customers while saving them the time and expense of acquiring their own certifications. Our data center is a SOC 1 Type II certified, PCI compliant facility in a low risk natural disaster zone with 24/7 on-site security, four tier 1 fiber providers, and monitored access controls.
We're a one-stop-shop for ISP and colocation support and billing. You won't have to pay for your Internet bandwidth and then
colocation bandwidth elsewhere: we provide unmetered bandwidth and colocation on one bill.
Additionally, our certifications and compliance cover all or most of the bases for your own mandatory certifications, depending on your industry, including PCI for ecommerce and service companies and HIPAA for those customers in the medical field.